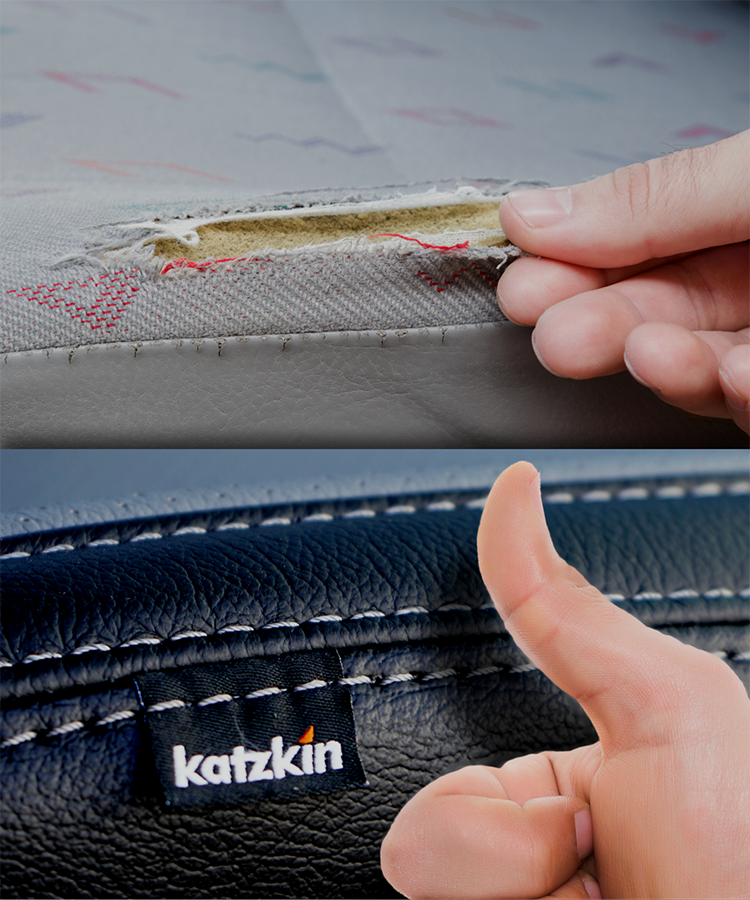 Reupholstery is the process of removing the fabric of your car seats, fixing the interior foam and springs, and replacing the fabric with new upholstery. Whether your car seats are damaged, or you'd simply like to upgrade your style, choosing to reupholster your car seats can be a big decision. Car reupholstery is an investment, but it can be worth it to repair and elevate the interior of your car. 
When should you reupholster your car seats? Read on to learn about the process, when it's time to reupholster car seats, and alternatives to reupholstery. 
What Does Reupholstering Your Car Seats Entail?
When car seats are damaged or stained beyond repair, new upholstery can save the day. Upholstering car seats is a labor-intensive process that requires expertise and precision. The process typically works like this: 
The old upholstery is removed. Upholsterers unzip the original fabric or leather, remove the inner clips, and pull off the upholstery. 

Foam and batting are replaced if needed. Depending on how damaged the car seats are, springs may also need to be repaired or replaced.

The old upholstery is cut apart, seam by seam, like puzzle pieces, so that it can be used as a template for the new material. The new upholstery is cut and sewn according to the desired design. 

The new upholstery is placed over the repaired seats. The upholsterer will work back to front to stretch the new material over the seats. This can take quite a bit of time and care as the upholstery should fit tightly like it came from the factory! The upholstery has to be attached to the inside frame, which will hold it tightly in place. 

Once everything is tight and secure, the new upholstery is finished. The seats can then be replaced inside the vehicle.   
How to Know When You Need to Reupholster Your Seats
How do you know when it's time to reupholster your car seats? Some people might choose car seat reupholstery when they want to change the look of their interior. Many people, however, only choose reupholstery when the seats are damaged beyond repair. 
Here are some signs that your car seats desperately need to be reupholstered: 
Missing foam
With chunks of foam missing, your car seats will be uncomfortable to sit in. This is usually a pretty big indicator that your car seats need to be reupholstered.
Misshapen seats
Over the years of being used, car seats can become misshapen as the foam flattens. When this happens, the car seats are no longer comfortable or supportive and reupholstery is needed. 
Missing material
 Big chunks of cloth or leather upholstery missing will likely lead to foam and batting falling out of the seat. This is another case where reupholstery is highly recommended. 
Protruding springs
Protruding springs are more than just uncomfortable. They can be downright painful. If you have protruding springs, it's probably time to reupholster your car seats. 
Gas stains
Although you can take some steps to remove the gasoline odor, if the stain is big enough, you likely need to reupholster your car seats. 
Extensive stains
If you've got ugly stains all over your car's upholstery, your best bet might be to reupholster your car seats.
Odors that won't go away
Buying cars second-hand can save you lots of money. However, if that car comes with a smell that won't go away, reupholstery can save your nose from a lot of stink. 
Extensive bubbles and tears
When you have many bubbles or tears on your upholstery, chances are things are going to go downhill quickly. You can either wait and seat, or just replace your car seats.  
The time to reupholster car seats can be a personal choice. However, in general, when the seats are uncomfortable, exceedingly stained, or have an odor that won't go away, it's probably time to reupholster your car seats. 
How Much Does it Cost to Have Your Car Seats Reupholstered?
How much does it cost to have your car seats reupholstered? The answer to this question depends on the type of vehicle you drive, the design details that you choose, and the amount of work your car seats need. In most cases, you should expect to spend $200 to $600 per car seat, or $2500 for the entire car. Some vehicles may cost upwards of $10,000 to reupholster. At Katzkin, our starting price to reupholster seats is $1795. For a more precise answer for your vehicle, contact us to get a quote. 
Alternatives to Reupholstering Car Seats 
If you're not sure whether or not you need to get your car seats reupholstered, you may want to consider alternatives. These alternatives range from quick fixes on the cheaper end to fits as well as if the seats were factory-made.  
Here are the best alternatives to reupholstering your car seats:
Katzkin seats
We may be a little biased, but the number one reupholstery alternative we suggest is Katzkin. More than just seat covers, Katzkin seats are custom-made, ready-to-install leather seats that fit as well as if they were factory-made. Katzkin seats are installed by a professional at one of our nationwide network of 2000+ installers. They replace the cloth or leather upholstery of your current seats, tailor-made and custom fit as if they were factory installed. The best part is how easy the process is. All you must do is specify the year, make, and model of your vehicle, choose your design, and from there, one of Katzkin's Interior Specialists will contact you to finalize the details and set up your installation appointment. Prices typically start from $1795, depending on the make and model of your vehicle as well as the design details you choose. 
Traditional Seat covers
Whether you're looking to protect your current seats or cover up damage, traditional seat covers are a relatively inexpensive alternative to reupholstery. Seat covers slip over your current seats, rather than replacing them. With most seat covers, you can choose from a variety of fabrics and patterns. The biggest thing to note, however, is that traditional slip-on seat covers don't fit like factory or look as luxurious as reupholstery. Seat covers will often slip around and get wrinkly. This is because they simply slip over the seats rather than being expertly installed. They are less expensive for a reason. 
DIY reupholstery kit
In the day and age of "do it yourself," it makes sense that you can find DIY reupholstery kits for sale. Doing your own car seat reupholstery can save you a bit of money but expect to spend upwards of 24 hours removing the old upholstery and replacing it with the new. The process can be quite time-consuming and labor-intensive. Plus, you'll need to purchase specific tools to get the job done. If you decide to go this route, expect to exert quite a bit of effort.  It also isn't likely to fit like it's from the factory.
Repair kits
If the damage on your car seats is not extensive, it might make sense to purchase a DIY repair kit. These kits typically start at $20 each, which is much cheaper than full reupholstery. Depending on the kit, you can patch holes, pull tears together, or repair small holes or tears. These repair kits are for small areas of damage only. Although the upholstery will be fixed, it might be obvious that some kind of repair was made. If you have more extensive damage, you'll want to consider a different option. 
Replace the seats
Another alternative to car seat reupholstery is to replace the car seats completely. The process is much simpler than reupholstery, though it isn't necessarily cheaper. It's a quick job of unbolting the old seats and bolting in the new. You can either purchase new car seats for between $170 to $500 per seat or find second-hand car seats for less.  Even if you replace the seats, you're still likely to need new upholstery on them!
Material Options from Katzkin
At Katzkin, we offer the industry's most extensive customization options for car interiors, from a variety of colors and materials to piping and stitching. We craft our seats with the highest quality of materials and carefully screen our installers to ensure the best installation. Here are the material options from Katzkin:
Premium automotive leather

: With over 100 colors to choose from, our automotive leather is made to match factory interiors. This premium leather is both beautiful and durable and can be sewn in millions of different design combinations! 

Tuscany fine automotive leather

: If you're looking for the softest leather ever, Tuscany fine automotive leather will exceed your expectations. This leather comes in our most popular leather colors. 

Katzkin XT

: For those who put a lot of wear and tear on your seats, Katzkin XT is the perfect material for you. This leather and vinyl is thicker than our premium automotive leather and is engineered to withstand the most extreme conditions. 

Barracuda square perforated leather

: This perforated leather offers a uniquely cool design look, with a second color tone visible beneath the perforations. With nine different color options, you can create a one-of-a-kind look for your vehicle's interior. 

Outlaw tooled leather

: For an old-world look, our Outlaw tooled leather is an attractive choice. Choose from several different colors for a subtle touch of elegance that adds depth to your interior. 

Autoexotics

: Choose from a variety of embossed leather and synthetic materials with unique designs and colors. 

Suedezkin

: This synthetic suede comes in ten different colors and can be used to add a touch of texture to your interior. 
Whether you're looking for classic leather or something more exotic, you can count on Katzkin seats to upgrade the look of your interior. 
How to Prevent Your Seats from Being Damaged
They say an ounce of prevention is worth a pound of cure, and that's certainly the case when it comes to reupholstering car seats. Your car seats will last much longer if you take steps to prevent your seats from being damaged. 
Here are some of our best tips for protecting your car seats and preventing damage: 
Vacuum regularly

: When dirt and grime is left on your car seats, it gets pressed into the material, making it harder to clean. Vacuuming regularly prevents this from happening. 

Treat stains

: Spills happen, no matter how neat you are. Spills turn into stains when you leave the mess without treating it. The sooner you address the stain, the easier it will be to clean from your upholstery. 

Prevent sun damage

: UV light from the sun can fade the color of your car seats and damage your leather. Park in the shade or in an enclosed area whenever possible to prevent sun damage. Use a sunshade to protect your upholstery when you do have to park in the sun.  

Avoid paper towels or napkins

: When it comes to cleaning your seats, paper towels and napkins can actually scratch or mark your seats. Use a cotton-based cloth to clean your seats to avoid damaging them as you clean. Always blot, never rub!
Conclusion 
Reupholstering car seats is a great option if your seats are super damaged, but it isn't the cheapest option. That's because you get what you pay for. If you are looking for a high-quality alternative to reupholstery, then look no further than Katzkin! Our custom seats are so much more than regular slip-on seat covers. Because they are professionally installed, Katzkin seats fit as well or better than factory-installed seats. And we're so sure that you'll love your seats that we guarantee our work for 3 years/36,000 miles. Whether you drive a Ford F-150, Toyota Camry, or Jeep Wrangler, we can make your interior look just the way you want!
reupholster car seats