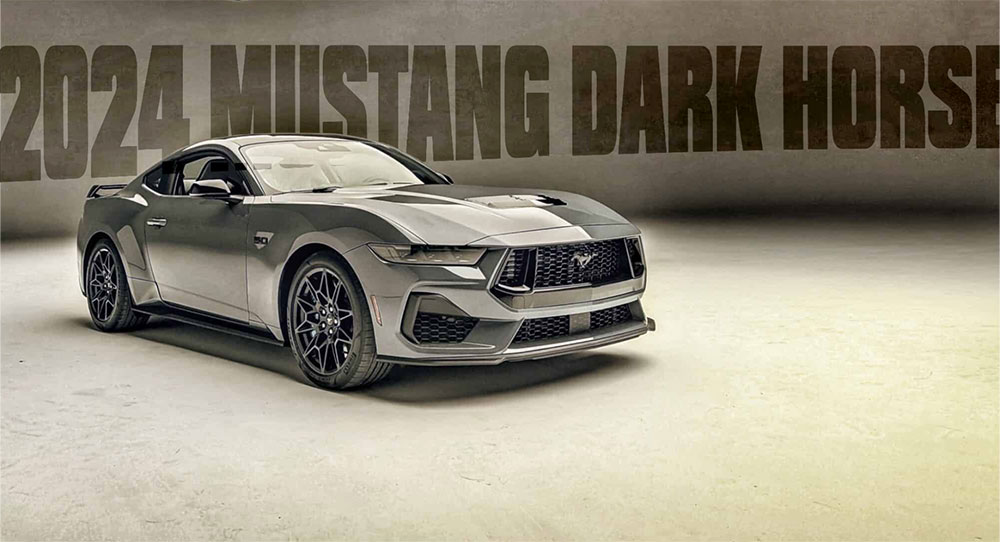 Like many other vehicle manufacturers, it seems that Ford is getting ready to say goodbye to its gas-guzzling muscle cars to make way for the new era of hybrid and fully electric powertrains. The 2024 Mustang Dark Horse is a sendoff that any muscle car enthusiast would kill to get their hands on. With bold body details and powerful features under the hood, the 2024 Mustang Dark Horse is a feat of raw power and engineering brilliance. 
Whether you're a car aficionado wanting to admire from afar or serious about getting your hands on the Dark Horse, we've put together this guide to tell you everything you need to know about the 2024 Mustang Dark Horse. 
When Will It Be Available? 
Since the impressive performance numbers of the 2024 Mustang Dark Horse were announced in 2022, fans of this iconic American car have been eagerly awaiting the day it goes up for sale. Luckily for you, the Dark Horse is out now. The only issue is its limited availability. Still, if you're lucky, you'll be able to walk into a Ford dealer nearby and find one of these fully loaded Mustangs with your name on it. 
What Makes It Different From the Other Mustangs?
The 2024 lineup of the Ford Mustang represents the seventh generation. The Mustang has been an iconic symbol of American automotive prowess since its debut in 1964 at the New York World's Fair. As such, the Mustang has gone through several generations, each marked by design changes and innovations. From the first-gen Mustang to the sleek and modern designs of the 21st century, the Mustang has evolved while still being recognizable as a Mustang. So how is the 2024 Mustang Dark Horse different from the other Mustangs? 
We're going to look deep into what makes the Dark Horse so special in other sections, but let's enumerate a few of the outstanding differences here. First of all, the Dark Horse engine is a Coyote 5.0-liter V8 that produces up to 500 hp. According to Ford, it's the most powerful naturally aspirated 5.0 engine the company has ever built. While other models of the Mustang are still designed for performance, the Dark Horse takes that to a whole new level with more stopping power, faster acceleration, and an engine boost that sends you flying. 
Although the Dark Horse performs like a beast on the track, this Mustang also has features that make it perfectly comfortable for day-to-day driving. With different driving modes, including a Quiet mode that dampens the sound of the roaring exhaust, you can adjust the Dark Horse to best suit your driving conditions.
Another difference you'll see between the other models of Mustangs and the Dark Horse is the transmission. While models up to the GT use a Getrag MT-82 transmission, the Dark Horse, just like the Mach 1 and the Shelby GT350, uses the Tremec TR-3160. This six-speed transmission shifts smoothly and can take a lot of torque without damage. 
0-60 Time
As any sports car enthusiast knows, the acceleration time of a new vehicle is one of the most exciting metrics to see revealed. For the 2024 Mustang Dark Horse, it's clear that this car isn't playing, and the acceleration capabilities are no joke. The Mustang Dark Horse is a true speed demon, boasting the ability to accelerate from 0 to 60 miles per hour in just 4.1 seconds, as clocked by Car and Driver. On the other hand, MotorTrend noted a time of 3.7 seconds for the 10-speed automatic version. Either way, this remarkable feat of acceleration is made possible by the formidable power coming from the Coyote engine. The Dark Horse doesn't just embody the Mustang's iconic style–it commits to delivering an electrifying driving experience that is rarely found elsewhere. 
Engine Size
As the heart of the vehicle, the engine plays one of the most important roles in its performance. Enter the fourth generation Coyote–a double-overhead-cam 32-valve V8 powerhouse that significantly contributes to the impressive performance of the Dark Horse. Boasting a 5.0-liter capacity that provides an exhilarating driving experience, this engine powers the Dark Horse to exciting speeds. 
The Coyote V8 inside the Dark Horse underwent several upgrades. Some of these upgrades include adopting piston connecting rods from the Shelby GT500, a more balanced crankshaft, and stronger camshafts. Plus, a new dual-throttle-body intake enhances the engine's air intake and enriches its distinctive sound. What sets this engine apart is not only its robust 500 hp but also the incredible 418 pound-feet of torque it produces at 4900 rpm. Torque at this level ensures rapid acceleration and impressive power delivery, making the Dark Horse a thrilling vehicle to drive, whether you're on the open road or making a statement on the track. The fourth-gen Coyote engine exemplifies the engineering excellence that has made it a symbol of high-performance driving. 
2024 Ford Mustang Dark Horse Specifications
Vehicle type: 4-passenger, 2-door coupe with rear-wheel drive
Price: $59,270
Engine: 5.0-liter Ti-VCT V8 
Horsepower: 500 hp @ 7250 rpm with 93-octane fuel
Torque: 418 pound-feet @ 4900 rpm
Transmission: 6-speed manual standard; 10-speed automatic optional
Displacement: 307 cubic inches
Fuel capacity: 16 gallons
Curb weight (manual/auto): 3,949/3,993 pounds
Wheelbase: 107 inches
Length: 189.7 inches
Height: 55.2 inches
Width, excluding mirrors: 75.5 inches
Width, including mirrors: 81.9 inches
Passenger volume: 82.8 cubic feet
Trunk volume: 13.5 cubic feet
EPA Fuel economy: 14 mpg city/22 mpg highway/17 mpg combined
Price
If you're looking to get your hands on this top-of-the-line Mustang, you know you're in for a pretty penny. The base price of the 2024 Mustang Dark Horse starts at $59,270. That price doesn't include the destination charges, acquisition fees, and add-ons you might choose. 
If you opt for the handling package, you're looking at an extra $4,995. The optional features in this package include Pirelli P Zero Trofeo RS tires, which greatly increase the traction on this Mustang, adjustable strut top mounts, front towing hooks, a magnetic damping system, revised chassis tuning, and a performance rear spoiler with gurney flap. 
If you'd prefer the 10-speed automatic transmission over the 6-speed manual, that's another $1,595. With all optional features added, including Recaro leather performance seats, a security package, and trim upgrades, the final cost of the souped-up Dark Horse could cost you $73,205.  
Interior 
It's not just the engine that has received the royal treatment in the Dark Horse. The moody blue interior brings this Mustang fully into the 21st century, with a 12.4-inch digital instrument cluster and a 13.2-inch touch screen that's slanted toward the driver. The digital instrument cluster comes with five different designs to choose from: Track, Sport, Normal, Calm, and a retro look, inspired by the 1987-1993 Fox Body Mustang.
There aren't many physical knobs or buttons in the Dark Horse–just the volume knob and a few others–but the touchscreen has large, easy-to-read icons and an intuitive user interface. To set the mood, the Dark Horse comes with colorful ambient lighting that illuminates the cupholders, door map pockets and release handles, front and rear foot wells, console storage, passenger-side instrument panel light bars, and media bins. A 12-speaker stereo system by Bang and Olufsen with a subwoofer in the trunk will really set the mood for some cool vibes.  
Interior Materials and Features
From the steering wheel or the touchscreen, the driver can switch into a number of driving modes, based on the exterior conditions and driver preferences. These modes include Slippery, Normal, Sport, Drag, Track, and Custom. The 3D-printed titanium anodized blue gear shift knob has a satisfyingly-solid feel, and the handbrake can be transformed into a drift brake with a few touches on the screen. Other modern interior features include phone shelves, wireless charging, and USB ports. The touch screen itself comes with Ford's Sync 4 system. With Apple CarPlay and Android Auto capabilities, it's easy to connect your phone to your car for safer driving and navigation. 
While the 2023 Mustang had aluminum interior detailing, the 2024 Mustang Dark Horse opted for plastic details with a carbon-fiber pattern and Deep Indigo blue accents. Some features, like the door handles and grab bars, carry over from 2023, but overall, the interior feels both modern and luxe. The flat-bottomed steering wheel is leather-wrapped with a performance suede insert for maximum comfort. Plus, for those chilly winter mornings and nights, the heated steering wheel will help you stay warm. Dual-zone electronic automatic temperature control comes standard, as do heated front seats. For the price of the Dark Horse, you'd think leather seats would be standard, but it comes with cloth seats, meaning you'll need to pay to upgrade to the Recaro Micro-Suede performance seats.
See Custom Ford Mustang Interiors
Exterior
With dark aesthetics and an impressive grille, the Dark Horse isn't the type of car you'd like to come across in a dark alley. Headlights and taillights are smoked for a distinct look, and Dark Horse badges adorn the decklid and front fenders. A hood stripe comes standard with all models of the Dark Horse, and side racing stripes are available to add on. Plus, the Dark Horse features a number of exterior details that make it all the more aerodynamic, like a fixed rear wing and a performance rear spoiler. While still recognizable as a Mustang, the Dark Horse is stunning in its modified exterior features and happily unexpected. 
Colors
The Mustang typically offers eleven colors to choose from, but the Dark Horse is slightly limited. You won't find a bright yellow Dark Horse flying around the nearest track, but that's probably a good thing. The 2024 Mustang Dark Horse definitely looks better in moodier shades. If you're looking to get your hands on one, you'll get to choose between the following colors: 
Shadow Black

Oxford White

Race Red

Atlas Blue Metallic

Grabber Blue Metallic

Dark Matter Gray Metallic

Vapor Blue Metallic

Carbonized Gray Metallic

Blue Ember Metallic (available on the Dark Horse Premium with the Appearance Package)
Upgrade Your Mustang Interior with Katzkin
The 2024 Mustang Dark Horse is the muscle car no one saw coming. In an era of retiring gas-powered track stars in favor of hybrid powertrains, Ford's decision to introduce the Dark Horse was a bold move. One approved by the lucky few who have purchased their own Dark Horse. 
While the Dark Horse is only available in limited quantities, the 2024 Mustang has a number of other trims. Other trim levels include the EcoBoost or GT, which may be easier to find in stock. If you're looking to upgrade your Mustang interior, whether to emulate the moody blues of the Dark Horse or create an aesthetic all your own, Katzkin is here to serve. With Katzkin, you can replace cloth seats with automotive leather that fits as well as if it were factory-installed. Choose from hundreds of color and material combinations to create an interior unique to you. With professional installation and a quality guarantee, Katkin will upgrade your interior beyond your wildest dreams.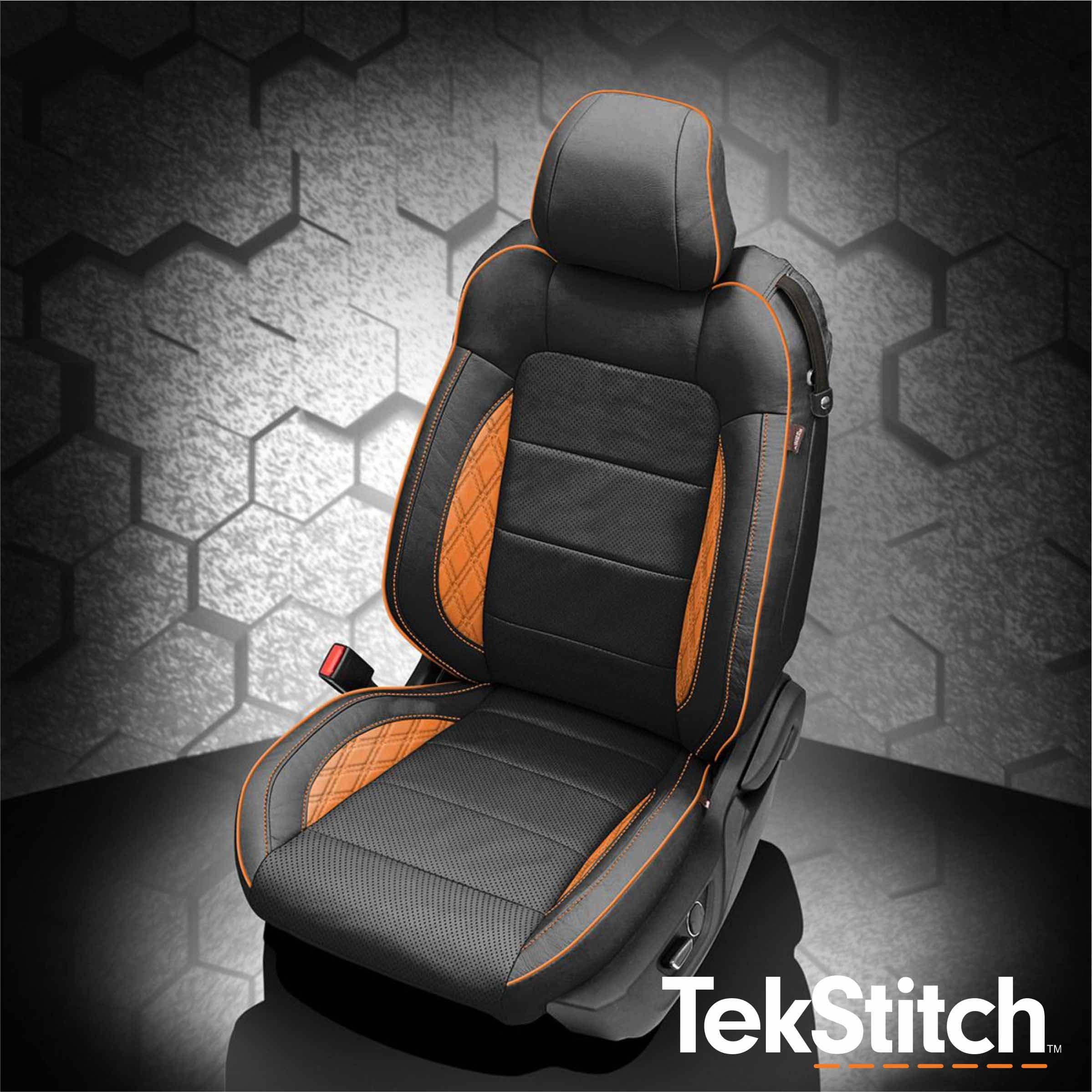 Tags:
2024 mustang dark horse
,
mustang dark horse 0-60