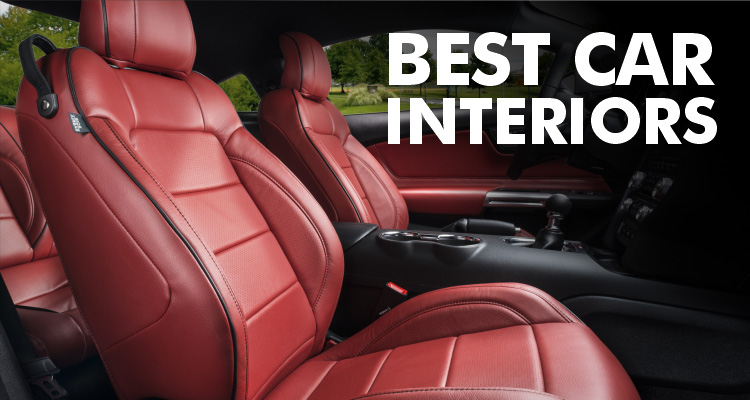 A car's exterior is what the world sees, but the interior is what you experience as the driver. The best car interiors are functional, comfortable, and luxurious. Depending on what you prefer, they might include heated and cooled seats. Typically, however, the cars with the best interiors are pricey. Most auto manufacturers reserve leather seats and details for their higher trim levels. So how can you save money and still get the luxurious interior you prefer?
The best car interior for you will depend on your preferences. We've compiled eleven of our favorite mid-price cars with luxurious interiors. Read on to learn about the best car interiors and how you can get them for less! 
How To Design Your Car Interior
Best Car Interiors
With tasteful minimalism-inspired design and functional tech features at your fingertips, the S3 Premium is sleek and luxurious. The steering wheel is wrapped in leather, and the seats come standard with black leather and gray stitching. 
Chrysler Pacifica Limited
Just because you drive a minivan doesn't mean you can't have the best. We love the Pacifica Limited interior for its storage and connectivity options, as well as the roomy seating with luxurious finishes. The seats come standard with black Nappa leather and a perforated insert. 
If you're looking for a clean, modern interior, the Hyundai Ioniq 5 SEL delivers. With options for either black or 2-tone gray H-Tex seats (an environmentally friendly alternative to leather), the spacious seating feels open and sleek. A panoramic sunroof brings daylight to the interior, and a 12.3-inch infotainment center sits just to the right of the 12.3-inch digital instrument cluster. 
The three-row interior of the Telluride SX is both roomy and luxurious. Leather seats come standard on all seven seats, with an option to upgrade to Nappa leather. The color options range from typical black to mahogany or sage green. Dual sunroofs bring more light into the cabin, while the sleek, dual panoramic displays put important controls where you need them. 
Classically elegant, the Lincoln Nautilus Reserve is another car with one of the best interiors. With a leather-wrapped steering wheel, illuminated mirrors, a retro piano key shifter, and particulate air filtration, the Nautilus Reserve is both modern and classic. The Nautilus Reserve comes standard with heated and ventilated seats for your ultimate comfort. 
With elegant, Nappa leather, three spacious rows, and heated front and rear seats, the Mazda CX-9 Signature has one of the best car interiors. The driver-centric dashboard is reminiscent of a race car driver's cockpit, with a digital driver's display and an infotainment center. 
Mercedes-Benz GLB 250 SUV
If you're looking for something both sleek and sporty, the Mercedes-Benz GLB 250 SUV delivers. The digital instrument panel and infotainment panel share the same housing for easy access. The GLB comes standard with black, macchiato beige, or neva gray/black MB-Tex. Seats can be upgraded to leather, including an option for classic red and black leather, for $1450. Options are also available for heated seats, ventilated seats, and a heated steering wheel.
The Ram 1500 Laramie is equal parts luxurious and bold. It comes standard with a black leather-trimmed bench seat with 40-20-40 seating, and an option to upgrade to two front bucket seats. The legroom and storage options are exceptional, with options for a center console as well as in-floor storage. 
The VW Taos is a compact SUV that packs a big punch. The SEL comes standard with two-tone leather seats–either black and gray or French roast and black. The Taos SEL also comes with a power tilting and sliding panoramic sunroof, as well as BeatsAudio and a 10.25" digital instrument display. 
The Volvo V60 Cross Country has a minimalist Scandinavian design that gives it a stylish feel. Smart features like a head-up display, safety assist, cross-traffic alert, built-in Google Assistant, and an air purifier make driving simply a joy. The furniture-finish of the seating, with supple leather and supportive seats, make it one of the most comfortable rides in its class. Nappa leather seats come in charcoal, brown, and blond, with wood and chrome finishes on the dash that match. The crystal gear shift adds a final touch of elegance. 
The Ford F-150 is the best-selling vehicle in America, and that's for good reason. The F-150 Platinum has an especially great interior. With seats that are both heated and ventilated, you can ride in comfort any time of year. Plus, the heated steering wheel keeps your hands warm in winter weather. Other features we love on the F-150 Platinum include partitioned lockable, fold-flat storage, a 12" digital productivity screen, dual-zone temperature control, a 360-degree camera package, and a wireless charging pad. The front bucket seats come standard with black, multi-contoured leather, with a choice to upgrade to Carmelo or Platinum black. 
How to Get the Best Car Interiors for Less
If you're looking for a car with the best interior but you don't like the price that comes with the dealership, you probably want to know how to get the best car interiors for less. Car manufacturers charge a premium for any and every upgrade. Plus, most of these models offer limited selections for customizing the color of your leather seats. Not all of them come with the option for heated and ventilated seats. 
At Katzkin, we can help you turn a boring interior into a luxurious space customized just for you. And the best part is that you'll save money doing it. By opting for cheaper cloth seats from the manufacturer, you can save a significant amount of money. Then, we customize leather seats to fit your vehicle, with a fit as good if it were factory-manufactured. With over 120 colors and materials to choose from, you can get the luxurious interior of your dreams for much less than what the dealership offers. Plus, we can add both heated and ventilated seats for your ultimate comfort. 
Best Car Interiors from Katzkin
With a network of over 2500 authorized installation centers, we've helped a lot of people around the country design the best car interiors. We only work with the best installers, and we guarantee our work. With so many choices for customization, you have an almost unlimited number of options for your car interior. Need some inspiration for giving your car the best interior? Here are some of the best car interiors offered by Katzkin:
All red interiors are always popular for sporty cars. Think Mustang, Camry, Corolla XSE, Tacoma, and 4-Runner TRD. Red is the quintessential color of sporty cars, and an all-red interior will always give your interior a striking look.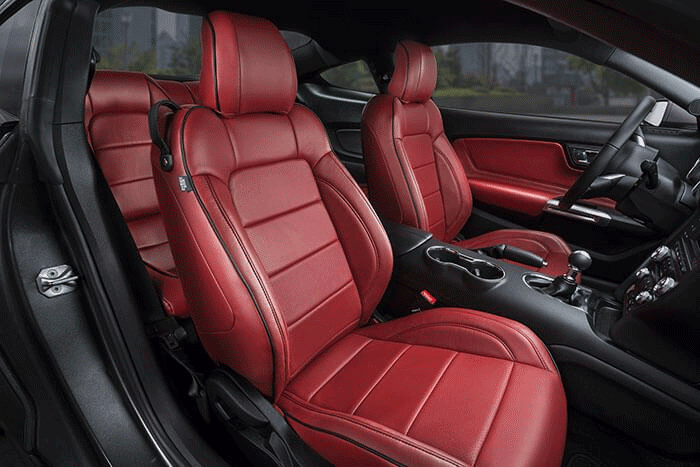 Black and mahogany two-tone leather seats never go out of style. This sleek look gives your seating dimension and is especially popular with F-150s and Silverados.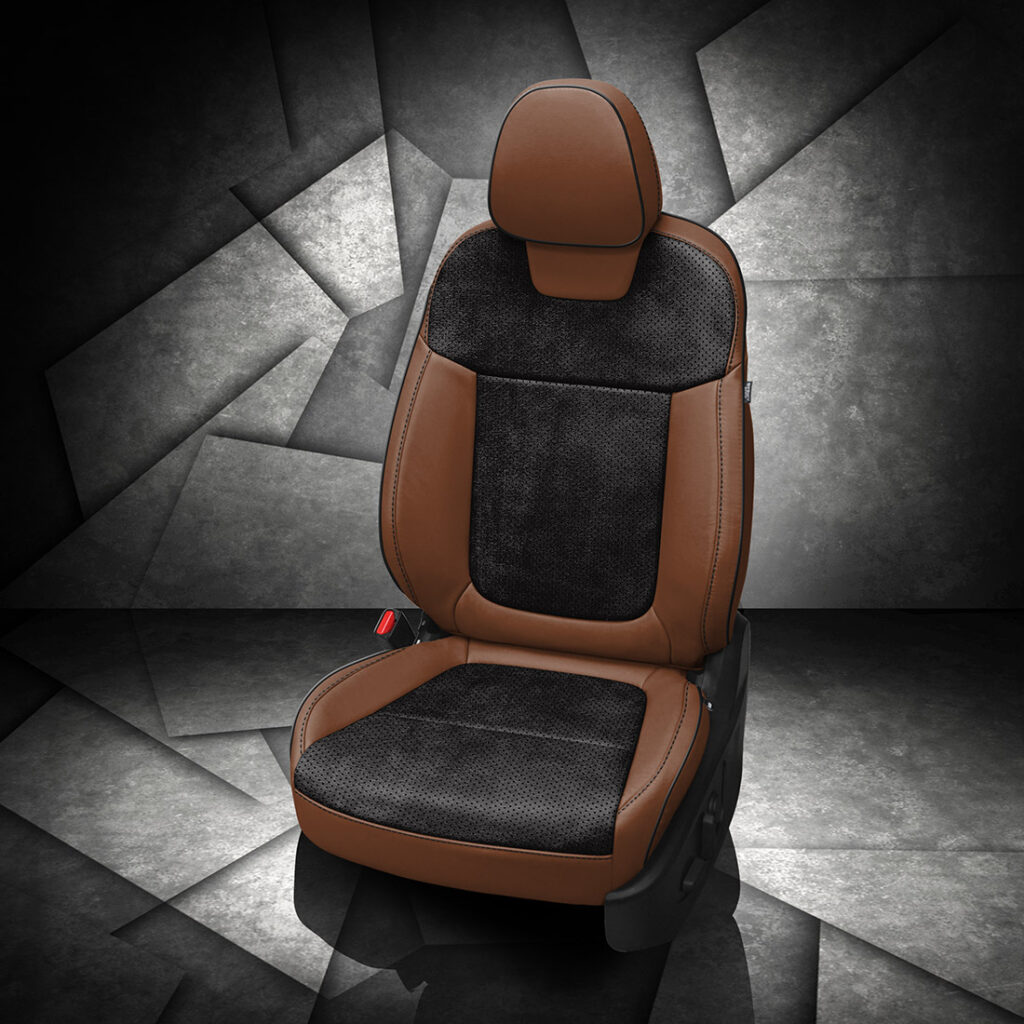 Looking for something that is both sleek and luxurious? Black with a contrast stitch and maybe even a touch of Suedezkin will effortlessly elevate the look of your interior.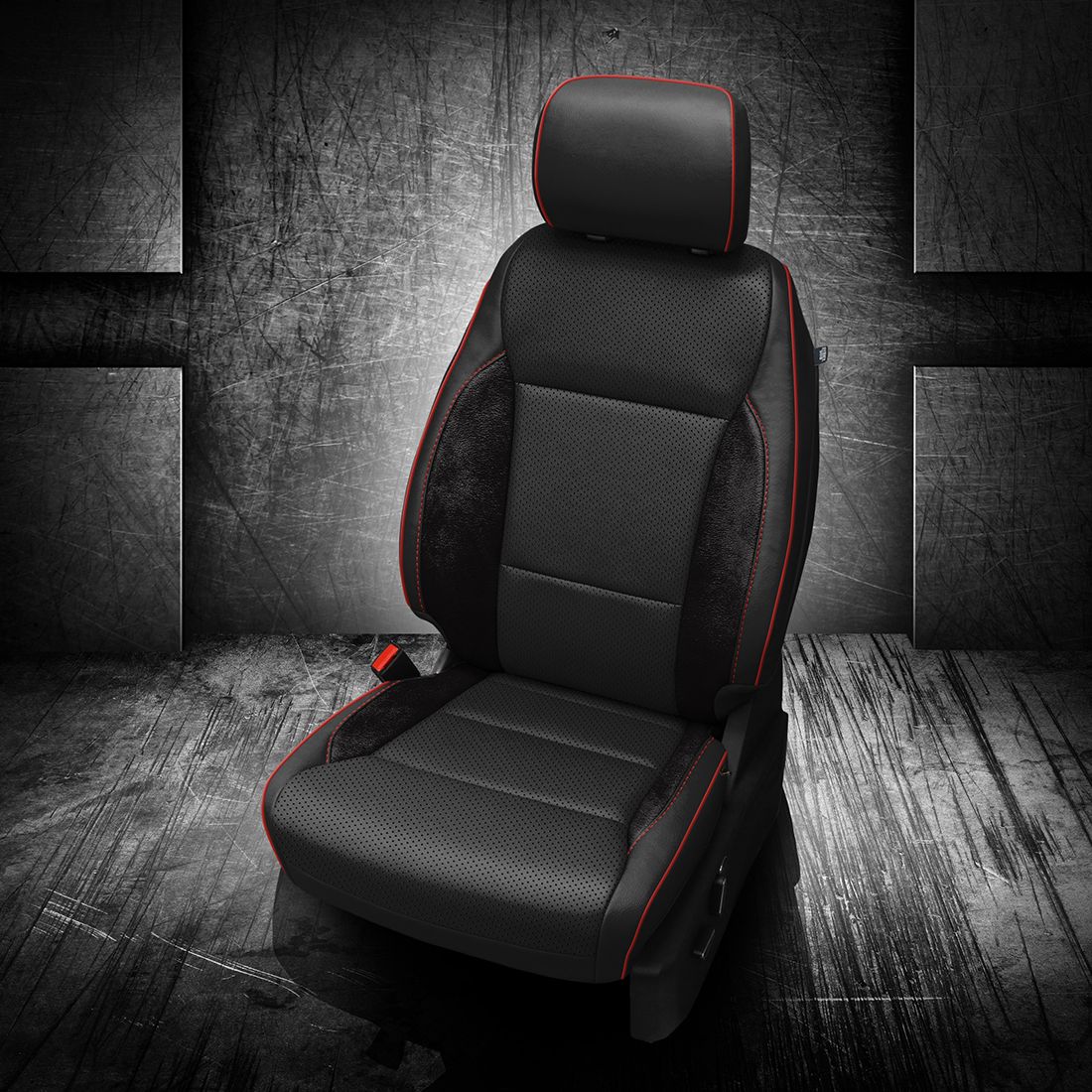 Whatever you're looking for, you can be sure that Katzkin will give your car the best interior. Start your design today for a no pressure pricing estimate. 
best luxury interiors
,
the best car interiors