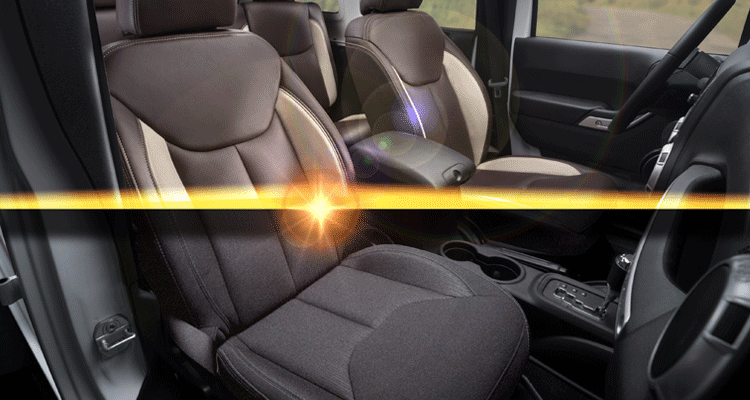 When you're shopping for a new vehicle, you have many different decisions to make, including vehicle make and model, interior features, paint color, gas mileage, just to name a few. Your vehicle's interior adds to its appeal and can increase its resale value if you carefully maintain it. After all, it's where you'll be spending most of your time! We'll take a look at cloth vs leather seats and which is better for your lifestyle. While cloth seats remain popular in less expensive vehicles, leather enjoys its own cachet. It also adds luxury to both the look and feel of your car or truck. You just can't beat the luxury, style, and durability of leather. Plus, it's often a more affordable option than you might think. When considering your next new car purchase, what will it be—leather or cloth seats?
Is Leather or Cloth More Expensive?
When it comes to leather vs cloth seats, the cost is a big factor for most people. With every vehicle purchase, total cost, or monthly payment options, is a big factor that can sway your decision. The standard options on most vehicles include cloth or fabric seats. An upgrade to leather, leather-trimmed, or upholstery with other premium materials is available at a substantially higher price.  You'll find that opting for leather or other premium materials over traditional cloth is a great value over the life of your vehicle. It's an even bigger value should you want to trade it in or resell it.
Leather and other premium seating options can increase the cost of your vehicle by several thousand dollars. The cost is even more with the higher trim packages. Should you opt for cloth, you can upgrade your vehicle with OEM quality leather and other premium materials upholstery from Katzkin, for less than you think. You can get your new leather interior for as low as $1,600 including professional installation. Many car owners choose this option, so they can get the leather upholstery they want, but don't have to pay for the other add-ons that often come packaged with the leather interior at the dealership. That can save you thousands of dollars. 
Leather vs Cloth Seats, Which Looks Better?
There's no question that when it comes to leather vs cloth seats, leather reigns supreme. There's a reason why the luxury automotive manufacturers like Mercedes, BMW, Bentley, and Audi use leather in their interiors. The soft, luxurious appearance and the feel of real leather is unmatched. Most people, when asked, prefer leather over cloth when choosing the features they want the most in a new car.
You get many more customization options when choosing an interior with leather and other premium materials, like suede or carbon fibers. It's available in many different colors and styles that complement both your car's interior and exterior detailing. Imagine bringing a splash of that red or blue exterior paint color into your interior. Leather is a perfect option!
Which is Easier to Maintain—Leather or Cloth?
When it comes to the great maintenance debate, leather-trimmed interiors are the clear winner. Since spills from drinks, food, and other materials occur frequently in vehicles, most cloth car interiors will become stained and dirty at some point in their lifetime. You can remove some stains with careful and intensive cleaning, but not all of them. Vacuuming will help you remove the vast majority of dirt and debris that get into your car. But it won't always remove the smells that are left behind.
The great thing about leather-trimmed interiors is that you almost never need to clean them! Over the life of the car, leather will be much easier to maintain from spots and spills. It's also much more durable than cloth seating if you have kids or pets. Each interior receives a special protective treatment during the manufacturing process. This preserves and protects the materials from any dirt and stains that come from your normal, everyday use. Cleaning your leather-trimmed interior is both inexpensive and easy, as opposed to the deep cleaning mentioned above to keep cloth seats looking and smelling fresh. Perhaps most importantly, leather doesn't absorb odors whereas cloth is known for trapping smells, requiring regular refreshing (and sometimes, may not work at all). 
What Offers the Best Resale Value—Leather or Cloth?
Since leather seats are extremely valuable to most people looking to purchase a used vehicle (consumers almost always prefer leather-trimmed or premium upholsteries over cloth ones), cars equipped with leather upholstery offer the best resale value. Though owners will not reap the entire cost of the investment of installing leather seats into their vehicle, they will be able to sell the car at a far more attractive price point. 
However, it's important to note that in order for the resale value to be desirable, the leather seats must have been properly cared for during their lifetime. Leather seats that look worn or have tears and cracks can actually be a deterrent to a sale. Simple leather maintenance over its lifetime can solve this problem.  Visit our Care & Cleaning section for tips on keeping a leather-trimmed interior looking great.
Do Leather or Cloth Seats Have an Impact on Health?
Cloth seats are comprised of fibers where materials such as pollen, dander, and dust can congregate. This is even more true if you regularly have pets (fresh off a trip to the dog park), or kids (with grass on their soccer cleats) inside the vehicle.  This can be troublesome for family members that experience ongoing allergies.  Though fabric can be vacuumed and refreshed with sprays, this is often not sufficient to remove all allergens and odors from the materials.   Also, should cloth seats get wet, any remaining moisture could seep through to the seat foam, creating the potential for long term mildew or mold growth.
Unlike cloth, leather and vinyl materials are non-porous and are less likely to trap common allergens. The exception to this is if your seats are perforated; the small holes in the seats to allow for airflow. But even with perforation, your potential for trapped dander and odors is much lower than cloth. Leather and other non-fabric options can also be wiped down regularly with a damp cloth to keep the interior fresh and clean. When it comes to health benefits, leather is the better choice. 
Trying to decide between leather and cloth seats for your next vehicle purchase? Let Katzkin help you understand the difference. We specialize in high-quality leather and premium upholstery sure to enhance the look and feel of any car. Check out our various designs to see just how much adding leather to your vehicle's interior can improve the look. 
Tags:
car interior
,
car interior maintenance
,
cloth seats
,
leather car seats
,
leather vs cloth seats