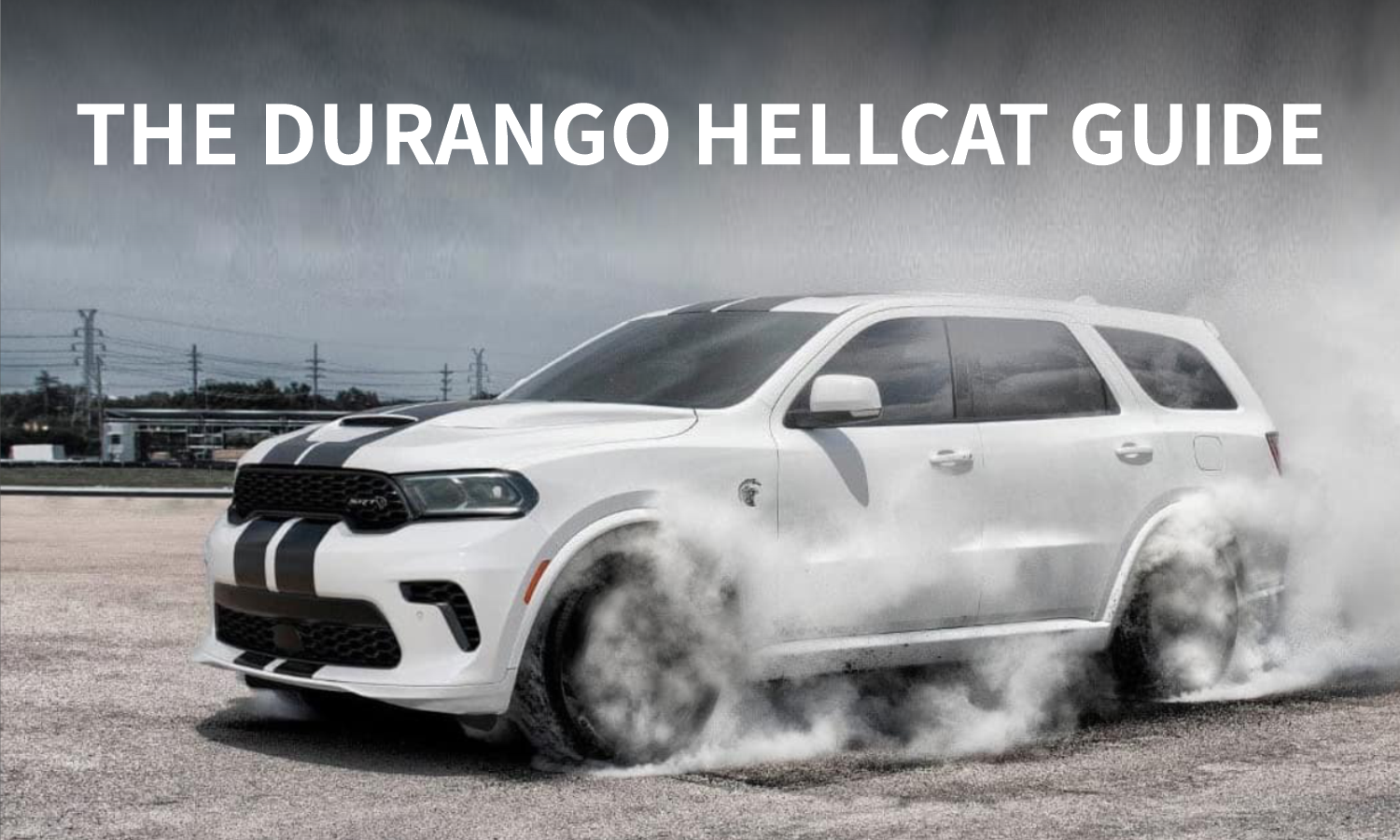 When it comes to raw power and exhilarating performance, few vehicles can rival the 2023 Dodge Durango Hellcat. Combining the spaciousness of an SUV with the heart-pounding capabilities of a muscle car, the Durango Hellcat is a remarkable creation that pushes the boundaries. 
Originally offered only on the 2021 models, the Durango Hellcat was so successful that Dodge had to give the people what they wanted. The 2023 Durango Hellcat is a supercharged, SRT vehicle that is more fun to drive than any SUV has the right to be. SRT stands for Street & Racing Technology and is a high-performance division of Dodge. SRT vehicles, like the Durango Hellcat, are known for their powerful engines, advanced suspension systems, and sporty design cues. When you see an SRT badge on a Dodge vehicle, you can expect a thrilling ride, and that certainly is the case for the Durango Hellcat. 
Read on to learn all about the Durango Hellcat, including its price, performance, specs, interior design, and more!
Best Truck Interior Accessories
The Durango Hellcat
The Dodge Durango is a mid-size SUV (Sport Utility Vehicle) and has been in production since 1998. Known for a combination of ruggedness and versatility, the Durango seats up to six and has become a popular choice for families. You may be wondering why a family car needs the SRT treatment of the Durango Hellcat, but the better question is why not? Even Mom and Dad deserve to have a little bit of fun.
The Durango Hellcat is built on a truck-like body-on-frame platform, which contributes to its robustness and towing capabilities. However, it also carries elements of a crossover vehicle. Built with a unibody construction, the Durango drives more like a car than traditional truck-based SUVs. This combination of body-on-frame construction and crossover-like characteristics gives the Durango a unique position in the market, appealing to buyers seeking a balance between off-road capability and on-road comfort. 
At the heart of this spacious Hellcat lies a supercharged 6.2-liter HEMI V8 engine that generates a jaw-dropping 710 hp. This mighty powertrain, borrowed from its muscle sibling, the Charger Hellcat, ensures that the Durango Hellcat delivers breathtaking acceleration and mind-boggling speed. Whether you're merging on the highway or leaving everyone in the dust once the light turns green, the Hellcat's power will put a smile on your face every time you hit the gas.
Durango Hellcat Price
When comparing the standard Dodge Durango with other vehicles in its class, this SUV falls within the same price range. However, the Durango Hellcat is the top-tier trim, and the pricing is much more than your average SUV. Plus, new with the 2023 Durango Hellcat comes the choice of three different packages: Hellcat, Hellcat Plus, and Hellcat Premium. The Durango Hellcat is already luxurious and powerful, but the Plus and Premium trims give you even more options for more luxurious details, including upgraded leather, an astounding 19-speaker Harman/Kardon system, and carbon-fiber interior trim. As such, the pricing varies for each trim level, going up in increments of about $5000. 
According to Dodge, the Durango Hellcat starts at an MSRP of $93,605. The Durango Hellcat Plus starts at $99,605, and the Durango Hellcat Premium starts at $104,810. 
Performance
With a supercharged 6.2-liter HEMI V8 engine, you can expect no less than power with the Durango Hellcat. This whopping engine powers the Hellcat with up to 710 hp and 645 lb-ft of torque. Plus, the Durango Hellcat comes with a towing capacity of up to 8,700 pounds, which is better than all other vehicles in its class. Brembo six-piston high-performance brakes ensure that this powerhouse will stop as well as it goes. But this SUV is more than just a workhorse. With the endowments of the SRT division, the Durango Hellcat accelerates fast, going from 0 to 60 in 3.5 seconds. 
While the Durango Hellcat may be a spacious SUV, it doesn't compromise on handling and agility. Dodge has equipped it with a high-performance suspension system, adaptive damping, and an all-wheel-drive setup to optimize its driving dynamics. The Hellcat's 20-inch-by-10-inch comes standard with Pirelli all-season tires or optional Pirelli P Zero AS Plus 3 tires, which are designed to boost performance on the track. Whether you're navigating tight corners or cruising the open highway, the Durango Hellcat maintains its composure, providing a thrilling and engaging driving experience rarely seen in SUVs of its size. 
Gas Mileage
Gas mileage is one area where this souped-up beast doesn't excel. But with such a powerful engine, are you even surprised? According to EPA estimates, the Durango Hellcat gets a fuel economy of 12/17/14 city/highway/combined mpg. It's not the worst gas mileage on the market, but neither is it the best. However, with the way many car manufacturers are going, it wouldn't be too surprising to see a future version of the Hellcat with a hybrid powertrain that offers better fuel economy. 
Interior
With an interior reminiscent of the Dodge Charger and Challenger, the Durango Hellcat has all the vibes of a muscle car. Even Mom and Dad can feel "too cool for school" when driving around town. The cabin blends comfort and performance seamlessly, with driver-centric details that make all the difference. Red accents on the gauge cluster and a backlit SRT logo on the steering wheel make you feel like you're on the racetrack even when you're stuck in traffic. 
The seats on this ferocious SUV come standard in black Nappa leather/simulated suede, with performance seats that cradle you as you drive. Driver and passenger seats are heated/ventilated for ultimate comfort and come with powered 8-way direction control. In the plus and premium trim levels, the seats are upgraded to two-tone Demonic Red/black Laguna leather seats. Meanwhile, advanced technology features, such as a 10.1-inch touchscreen display, smartphone integration, and a premium 8-speaker audio system make sure you stay connected and entertained through your journey. Performance-inspired paddle shifters are available, allowing more control for the driver. And the UConnect voice command lets you access features without taking your hands off the wheel. Plus, an available second-row center console provides storage space and a USB connection to rear seat passengers. For long drives, the available rear-seat screen will help keep the kids entertained. 
If you want the look of the Hellcat without the Hellcat price, Katzkin can help. First, you purchase a lower trim level, such as the Durango SXT or even the SRT 392. Then, all you need to do to get the Hellcat look is add custom leather seats from Katzkin. You'll save thousands of dollars and get an interior that is both luxurious and Hellcat cool. Katzkin offers hundreds of choices to customize your Durango. Whether you're looking for red styling to match the higher trim levels of the Hellcat or a color combination that's as unique as you, Katzkin delivers. Plus, Katzkin's custom leather seats are more than just a seat cover. Every Katzkin interior is installed by a professional for a fit as good as factory installation.  
Cargo Space
One of the benefits of Dodge's supercharged SUV is the cargo space. Whether you're hauling kids on vacation or hauling home new treasures from a garage sale, you'll have a cargo volume of 17 cubic feet. But that's not all. The Durango Hellcat's seats are super configurable. The third-row split-bench seats fold down flat and the second-row seats flip forward. When both rear rows are stowed, the volume shoots way up to a maximum of 85.1 cubic feet of cargo space.  
Safety Features
Safety is essential for any family vehicle, and the Durango Hellcat comes equipped with a range of advanced safety features. From blind-spot monitoring and rear cross-traffic alert to adaptive cruise control and lane departure warning, the Hellcat helps keep you and your loved ones safe. Additionally, modern driver-assistance technologies like forward collision warning and automatic emergency braking provide an extra layer of security. And for driving in inclement weather, the Durango Hellcat offers Electronic Stability Control and All-Speed Traction Control to help you safely make it through the storm.  
The 2023 Dodge Durango Hellcat is a remarkable blend of power, performance, and practicality. It's an SUV that caters to those who crave a thrilling driving experience without sacrificing comfort. With jaw-dropping acceleration, aggressive styling, a luxurious interior, and advanced safety features, the Hellcat offers an unbeatable combination that sets it apart from the competition. 
With Katzkin's help, you can style any Durango interior like the Hellcat. at Katzkin we offer hundreds of choices for premium automotive leather and suede. Choose luxurious details, like perforated seat inserts or colorful stitching to make your Durango your own. Plus, you can add heated and ventilated seats to take your comfort level to the max.  
2023 durango hellcat
,
dodge durango hellcat
,
durango hellcat price