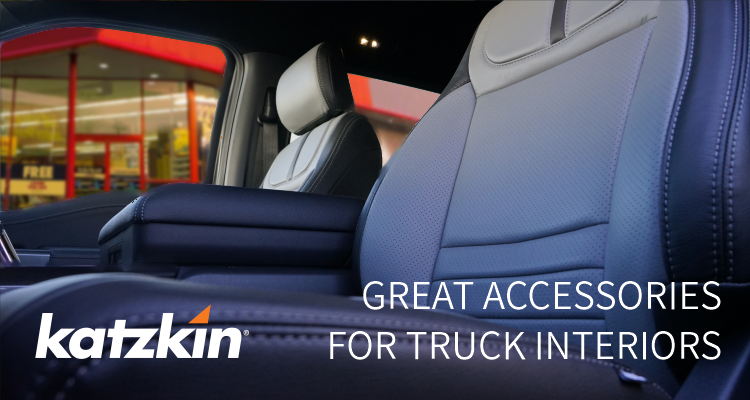 Whether you use it for work or for play, your truck is more than just a way to get from point A to point B. Customizing it with truck interior accessories can improve functionality as well as reflect your unique personality. With the popularity of pickup trucks in the US, the sky's the limit when it comes to cool truck interior accessories. 
Looking for inspiration for upgrading your truck's interior? We've put together a list of the best truck interior accessories.
Katzkin Leather Interior
One of the best ways to upgrade your truck's interior is with Katzkin's leather seat covers. Katzkin crafts customizable leather interiors that replace your current upholstery and are installed by a professional installer. That makes them vastly superior to traditional seat covers. Katzkin seats are tailored specifically for the make and model of your truck, with options for almost any truck in the US. Choose from over 120 different colors and materials, with options for two-tone seats, detail stitching, and more, to create the interior of your dreams. Whether you drive an F-150, Tacoma, Silverado or Ram 1500, we can add custom leather to it. Click here to see designs for your truck.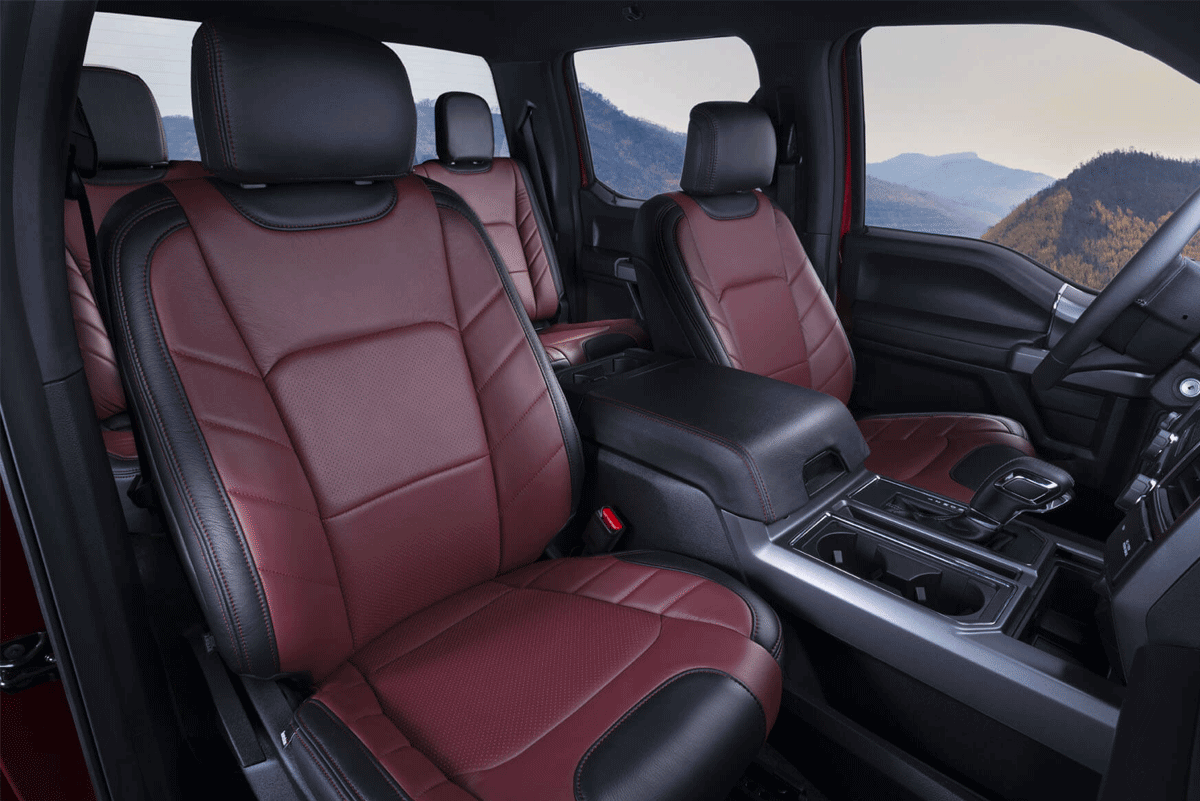 Seat Rail Tablet Mount
Tablets can be incredibly useful when driving–whether for directions, entertainment, or work purposes. The Arkon TAB801 seat rail tablet mount makes your tablet accessible while driving. Arkon's tablet mount, which fits tablets from 7 inches to 18.4 inches, is heavy-duty and especially useful for truck fleets and service vehicles. The tablet mount attaches to your truck's seat bolts and extends up with a 22-inch adjustable arm. 
Graphic Dashboard Kits
Next on our list of best truck interior accessories are these graphic vinyl dash kits from Rvinyl. Dash kits are manufactured to precisely fit your dashboard for OEM quality. With a dash kit, you can easily change the look of your truck interior, with options for the look of carbon fiber, chrome, wood grain, aluminum, and even specialty patterns for a huge variety of trucks.  
Weathertech All-Weather Mats
When you spend so much effort customizing your truck, protecting it from rain, snow, and dirt is essential. These all-weather mats from Weathertech are one of our top interior truck accessories. They come with deep channels to trap rain, snow, mud, dirt, and anything else you might want to keep off your floor. Made from a Thermoplastic Elastomer compound that is latex-free and recyclable, these all-weather mats stay flexible even in the coldest temperatures. Weathertech all-weather mats fit a variety of trucks. Some are made for specific makes and models while others are made for general use in most trucks. 
Custom Gauge Faces from US Speedo
One of the coolest truck interior accessories you can find is a new custom gauge face from US Speedo. US Speedo offers the best gauge faces on the market, with higher quality than many OEM gauges. Whether you're going for a sporty look or a more elegant look, US Speedo offers a huge variety of options, including color options for the gauge lights. From rose gold tinted stainless steel to aqua blue gauge faces, these truck interior accessories let you create a truly unique interior. 
LED Ambient Lights
Nothing sets the mood for your drive like ambient lighting in your truck interior. LED lights are a majorly cool truck interior accessory to upgrade your truck. Parogoptics offers high-quality, retrofit lights for Dodge Rams, Jeep Wranglers, and Jeep Gladiators. These lights come in a number of color options from Octane Red to Sublime Green. 
If you're looking for LED lights that work with other trucks, Super Bright LEDS offers a huge range of products for practically any truck in the US. Colors range from Amber, Red, Blue, Green, and Pink to RGB or UV light, depending on the product. 
DashMats
With constant sunlight through the windshield, dashboards can crack and fade. Dashmats protect and cover your dashboard and prevent deterioration by the sun. Dashboard covers are custom-patterned to fit the make and model of your vehicle, with cutouts for vents and sensors. DashMats come in a variety of neutral colors and can be customized with personalized embroidery. 
Decorative Door Sills 
Door sills may not be the first in your mind when it comes to the best interior truck accessories, but changing them can have a big impact on your interior. Door sills cover the gap between your truck frame and the door and take a beating with the constant in and out of your truck. Decorative door sills are an easy way to elevate your truck interior. 
These illuminated door sills glow every time you open your truck's door, making for safer entry in the dark while adding a touch of style. For custom door sills, Cali Raised offers a variety of options for select trucks, like the Dodge Ram, the Toyota Tacoma, and the Ford Ranger.  
Hydrographics
If you're looking for cool truck interior accessories, hydrographics are it. Hydrographics, also called hydro dripping, is a process used to transfer a pattern to a 3D surface. The color or pattern floats atop water, and, as the object is immersed, the pattern transfers. Hydro dripping is one of the coolest new ways to customize your truck. The process works on a variety of materials, such as metal, glass, wood, fiberglass, and more. Hydrographics allows you to customize just about anything in your truck interior, from your steering wheel to the dashboard and console.
If you're looking to hydro drip your truck interior, Wet Graphics does customizations for interior and exterior products. They are located in Las Vegas, but can hydro drip anything that can be shipped to them.   
Radio Navigation Systems
Radio navigation systems are widely regarded as some of the best interior truck accessories available on the market today. These systems are designed to provide you with comprehensive navigation, communication, and entertainment features. They come with large, easy-to-read displays that show clear, turn-by-turn directions, and advanced voice-activated controls that allow drivers to keep their hands on the wheel. Additionally, these systems come equipped with cutting-edge GPS technology that provides real-time traffic updates, ensuring that drivers always have access to the most efficient routes. They also feature Bluetooth connectivity, which enables hands-free calling, and music streaming from your smartphone. With their high-quality hardware and software, these radio navigation systems from Phoenix Automotive are the perfect way to enhance the functionality and comfort of any truck.
Eagle Eye Dash Cam 
If you're looking for an interior truck accessory that also protects you from fraudulent activity and liability, consider this Eagle Eye 3 2K GPS Dash Multi-Cam System. The Eagle Eye 3 records HD-quality video from three POVs and is powered by your truck's 12V cigarette lighter/charger. You can record up to 28 hours of footage, depending on whether you choose the 32 GB, 64 GB, or 128 GB memory. And all footage comes stamped with the date and time for ultimate proof. 
Conclusion On The Best Truck Interior Accessories 
From cool tech to stylish lighting, the best truck interior accessories upgrade your truck and express your unique individuality. Now that you've read the list, which items are you going to get for your truck? A custom interior from Katzkin is always a good choice. You can pair that with decorative door sills, a dashmat, and custom gauge faces from Speedo. The beauty of customizing your truck is you get to make it specific to YOU! We have locations all over the US for you to choose from including Dallas, Los Angeles, and Miami!
best truck interior accessories
,
interior truck accessories