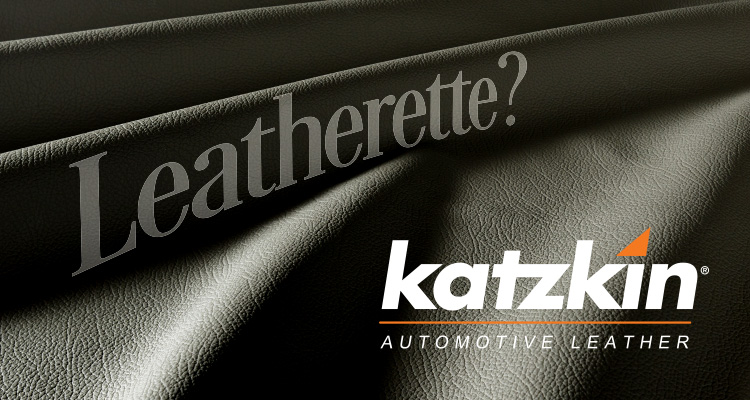 What is leatherette and how does it compare to actual leather? A lot of people ask this question when they're considering upgrading their car's interior.
Car Interior Material Options
When considering what kind of material is best for your car seats, there are lots of options for you to choose from. Though most cars come standard with cloth seats, most people prefer the comfort and style of genuine leather.  Which material and colors that you decide upon is a matter of personal choice. But leather offers great advantages, giving your vehicle an upgraded and elegant look with a much more comfortable feel.   When researching your interior options, you may come across many interiors marked as "leatherette". This is a common misconception; it is real leather?  Is it plastic?  Why not just call it leather? Read on to learn more about it!
So, what is Leatherette?
While you are car shopping, you will see some vehicle interiors marketed as "leather-trimmed". What does this mean? This means that there is real leather in your interior, but there is also a look-a-like synthetic material in parts of it. This is usually a vinyl material, sometimes called "leatherette", so that people will think they are getting leather when it probably is not. It looks like leather, but it is a man-made, non-animal product. You'll see all types of non-leather materials in vehicles on the road today, and they can range from soft and smooth (Toyota Softex for example), to very rough, sticky, or plastic-like. Katzkin uses only premium non-leather materials to complement our leathers for the perfect mix of style, comfort, and durability.
Why use Leatherette in interiors?
For good reason, almost all car or truck interiors on the road today with a leather interior also contain vinyl, or "leatherette". On certain high traffic areas of the seats, like the sides next to the plastics or on the rear backs of the front seats, this vinyl is used for durability. Imagine your kids' shoes on the backs of the seats! Vinyl ensures ease of cleaning and more resistance to the scuffs and spills of everyday car interior use. Vinyl in these areas is much preferred to soft leather and will make sure your interior lasts the life of your car or truck.
In Katzkin interiors, the seating surfaces that touch your body are all real, premium leather, crafted to ensure a comfortable ride for drivers and passengers alike. Oftentimes, you'll find more real leather content in Katzkin interiors than the original factory "leatherette" interiors!
What is Leatherette Conclusion
While both real leather and "leatherette" materials have their benefits in your car or truck's seats, there's no doubt that an expertly trimmed leather-trimmed interior provides all the durability, and the luxurious look and feel you want for your vehicle. We can add custom leather to almost any domestic vehicle in the US including the F-150, Silverado, Toyota Camry, and more. Start designing your new interior here! 

Tags:
leatherette vs leather guide
,
what is leatherette