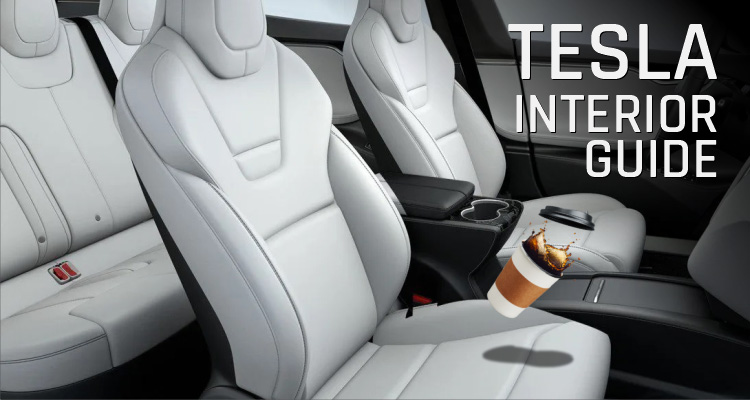 Electric cars are the future, and nothing is hotter than the one that revolutionized the industry, Tesla. If you're planning to purchase a Tesla, one of the things you might notice is the limited options for your Tesla interior. Tesla provides only a few customization options for its interiors, which helps them manufacture cars more quickly. Fewer options, like most automotive manufacturers these days, allows Tesla to avoid supply-chain bottlenecks that have slowed production for other car companies.
Although Tesla cars are considered luxury-adjacent, their all-electric capabilities and top-of-the-line features make them a popular choice, especially since the addition of the Model 3. Read on to learn everything you need to know about Tesla interiors and seat options as well as how you can upgrade your Tesla interior.
What's Included in the Interior?
One thing that's true across all models is the minimalism of the Tesla interior. Whether you're looking at the Model 3 or the Model X, you'll find the interior to be sleek and pared down. The dashboard has a simple wood slab that adds that luxurious feel this driver is looking for. Air vents are hidden within the dash, and temperature controls are found within the touchscreen. To achieve the minimalist look, Tesla eliminates extraneous buttons, leaving only a few, such as the steering wheel scroll wheels, the electric window buttons, the overhead hazard light button, and buttons on each door handle.
Included in all Tesla models is a giant central control screen. This touchscreen is used to do everything inside from adjusting the steering wheel column to setting up autopilot. The display screen shows your speed limit as well as a map you can use for directions around town. Plus, when you're stuck in traffic or parked, there are a few fun add-ons, such as racing games that use the steering wheel and pedals. With top-of-the-line graphics, the display on the touchscreen leads the industry for sharpness.
Keyless entry, keyless start, and heated seats come standard with all Tesla models. One notable feature is the infinity sunroof, which helps the interior feel even roomier. USB-C ports and air vents in the back make riding as a backseat passenger more comfortable.
The bucket seats are somewhat narrow, but in spite of this, Tesla seats are quite comfortable. The backseat of most Tesla models is decently roomy. However, anyone over six feet tall may feel a bit cramped. Looking to rest? Even Tesla seats in the back have the capability to recline. And if you need to haul cargo, the seats in the back row fold flat to allow for more carrying space.
Tesla Seat Options
Electronic options are everywhere, but where are they lacking? As far as Tesla seats go, there aren't a ton of options. Some Tesla models, such as the Model Y and the Model X Plaid, give you the option to install a third row. Configurations for the third row allow for a total of six occupants, with two seats in each row.
Cloth seats come with the base models, and you won't find any real leather inside any Tesla these days. That's because Tesla uses non-animal materials in its continued efforts to be environmentally friendly.  What you may not know, however, is that "vegan leather" is simply a term for vinyl.  Vegan leather refers to a wide range variety of leather-like textiles.  If your main priority in this arena is an animal-free textile, this vegan leather fills the bill.  But, if you're expecting other environmentally-friendly benefits from these fabrics, it's best to research before buying.  Many automotive leather alternatives are sometimes made from polyurethanes and other ingredients that are not always so eco-friendly.
Although you can customize your Tesla seats, the options are incredibly limited. If you're looking at the Model X Plaid or Model S Plaid, you may be disappointed to discover that the Tesla Plaid interiors do not include any plaid (It's actually Houndstooth!). And if you're looking for a Tesla red interior to contrast a black exterior or match a red one, you're out of luck. Tesla only offers seats in black, cream, or white (which can be murder if you wear blue jeans often!)  Those blue dyes, and the everyday wear and tear on a light-colored interior, will start to show quickly.
Disappointed in the lack of choices? Katzkin has you covered. You can choose from 120 colors and materials to transform the interior of your Tesla. With professional installation, you can be sure your custom seats will fit perfectly for a polished finish. And while all Teslas come with heated seats, we can add ventilated seats to complete the package and make it even more luxurious.
How to Clean Tesla White Seats
The most popular option is the Tesla white interior. If you've purchased a Tesla with those lovely white seats, you may be wondering how best to clean your seats. Although it tends to hide wear and tear decently well, Tesla white seats become dirty quickly and can be difficult to keep looking clean. If you have light cloth seats, rather than the vegan leather seats, you're still going to find your seats getting dirty quickly.
You'll need to clean your seats regularly. According to Tesla's owner's manual, you'll want to use a microfiber towel, water, and a non-detergent cleaner to wash your seats regularly. The seats are hydrophobic, which means spilled liquids shouldn't be absorbed into the seats. All you'll need to do is make sure you wipe up spills as quickly as possible,
Because of the continued effort required to keep white seats looking clean, at Katzkin, most of the Teslas we work on are for customers replacing their white or light-non-leather seats with a dark or red leather interior.  But whatever combination you find right for you, we can do that!
Upgrade Your Tesla Interior
The sleek minimalist look of Tesla interiors is one of the draws that has made the electric car so successful. And while Teslas come standard with many features, like keyless start and the central touchscreen, interior options are limited as far as seat materials and colors. Luckily, you can count on Katzkin to upgrade your Tesla interior. Using only premium-grade leather, we'll give you the exact look you want. Plus, with a 3-year/36,000-mile warranty, we guarantee you high-quality workmanship. Click here to choose seat design options for your Tesla interior!
Tags:
tesla interiors
,
tesla plaid seats
,
tesla white seats