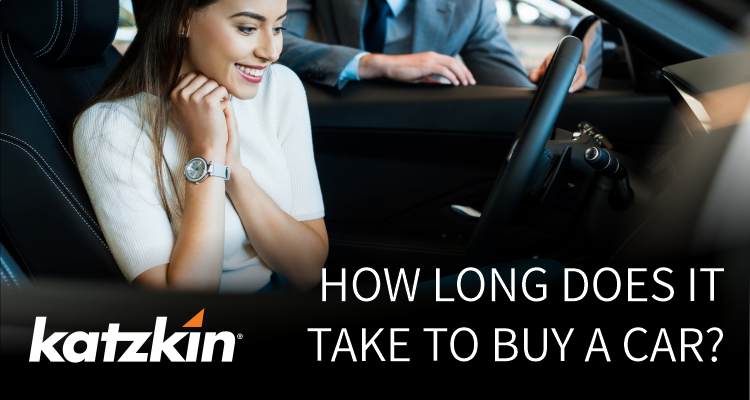 So, it's time to go car shopping and you're wondering, how long does it take to buy a car these days? That's going to depend on a number of factors, including whether you buy new or used and what features you're looking for. Additionally, trading in your car can add time to the process.  Plus, in these unprecedented times and supply chain delays, there's the potential for a long wait for your new car to be built and delivered to your dealer.
How To Cool Down Leather Seats
Choose Your Design
How Long Does It Take to Order a New Car?
Ordering directly from the manufacturer has always been an option, but it hasn't always been one that most Americans are familiar with.  When you need a car, you go to your dealership and pick the one that has all the options you've been searching for, and drive it home right off the lot in a few hours.  However, with the global pandemic affecting car and truck (and just about everything else) production worldwide, dealerships just can't get enough stock to keep their lots full. Drive down the street where your local dealerships are; you'll see a LOT of empty space!  
If you are able to wait for that car you want, with all the fancy options, you can order the perfect model for you, but expect to wait as long as 9 months for it to arrive at your dealer.  This time can change depending on which high-end features you're willing to lose, or the ones you must have.  Be prepared though; some manufacturers are not even taking orders for certain models due to the high demand and backlog of available parts.   
Katzkin FAQs
How to Get Your New Car Faster
So, there must be a better way, right?  With a few tips, you can get your new car faster. 
When it comes to buying new cars, the higher trim levels with the luxury features take longer to produce.  Why?  More bells and whistles of course!  Seat heaters, navigation, and backup cameras all have one thing in common; microchips.  And those are very hard to come by in the current environment.  So, if you can live without all those luxury features, opt for a lower trim level vehicle.  For example, if you're ordering a new Ford F-150, there are seven different trim levels. Buying the base levels of the F-150, the XL or XLT, will take 3 or even 6 months less to produce than a higher trim like the Lariat, Platinum or King Ranch.  
What's our biggest tip for getting your new car faster? Those lower-trim models come with cloth seats rather than leather. Ordering cloth seats can help you get your new car to you months sooner. But what do you do if you want leather seats?  Well, that of course, is where Katzkin comes in!
At Katzkin, we remove that cloth and install our high-quality custom leather interior, tailor-made to fit your car like a glove. You'll get the same luxury and comfort of the higher-level trims at a much lower cost than factory-installed leather.  Plus, we can add heated and cooled to your seats (just like factory!) for even more driving comfort. And the best part?  Re-upholstering those cloth seats with leather takes much less time than waiting for your new car.  
What about Used Cars?
The length of time to buy a used car is typically much less than ordering a new car, because those cars are already there waiting for you at the dealership. Before you walk into the dealership, you'll probably want to do some research ahead of time. Knowing your budget as well as the features you need in a car will help you narrow down your options. This might take you anywhere from a few hours to a few weeks to find just the right one. 
Once you know the make and model you're looking for, you can head into the dealership. The more you know ahead of time, the less time you'll spend shopping for your car. A lot will depend on the dealership's availability as well as how many cars you test drive. Expect to spend somewhere between one and three days looking at various dealerships. 
Getting Your Used Car Faster
The timeline for buying a used car from a private individual will likely be similar. Searching through online posts about cars for sale may take you the longest amount of time. Once you find the car, you'll need to set up a time to test drive. You may want to take the car to a mechanic to ensure that it's functional. This might add a few days to the process, but it's an important step in finding the right car for you. 
Unfortunately, due to high demand and the light supply of new cars, the used car market can be overpriced depending on the model you're looking for. Finding a decent used car at a fair price can seem impossible. If you do find a used car at a good price, you might not get all the features you want.   Again, Katzkin has you covered!  Found the perfect used car but it is missing the leather you really wanted? Love the heated seats or ventilated seats coming now in all the high-end models? Katzkin makes it possible to create your dream interior, and add a little bit of your own personality while doing it.
Timeline on Buying a Car Conclusion
Whether you're shopping new or used, buying a car is a process, from day one of researching different models to finding the right dealership and driving your new ride off the lot. All the steps; test driving, financing, negotiating the price, and trading in your old car can be quite daunting. If you decide to go for that brand new model, expect to wait months if they don't have just the one you want.  Buying a used car will take you less time but you may have to sacrifice for what's available and expect to pay a bit more in the current climate than you'd normally pay. 
No matter what avenue you take, Katzkin has a solution to get you one step closer to the perfect interior that you're looking for. Order the lower trim models, add leather and save time and thousands of dollars vs. those higher trim models. Spruce up that "new-to-you" used car with our color and material options.  That used car is now one of a kind!  Katzkin's expert installation of handcrafted leather, as well as heated and ventilated seats, will transform that drive, whatever you drive. And with all our work backed by a 3-year/36,000-mile warranty, you can be sure you're getting only the best for your new vehicle. We make leather seats for all the most popular domestic vehicles including the Jeep Wrangler, Chevy Silverado, and Toyota Tacoma. 
See Product Options
Choose Your Design
Tags:
how long does it take to buy a car
,
how to get your new car faster